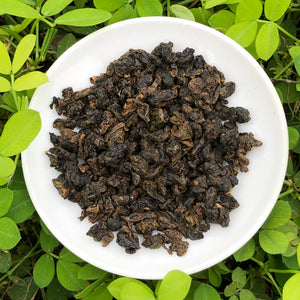 First GABA, not bad, nothin' special
Hard to follow that first review... glad I waited a day haha.
I believe this is my first GABA, so I was interested and excited. Brewed gongfu style as always. 205F water, 4-5g of tea. Nothing really stood out for me on this one on the flavors. The first time I tried it I thought I had some hints of chocolate, but haven't had that return yet in any subsequent steeps. Typical slight fermentation smell of a darker oolong as indicated by the steeped leaf color. Definitely some noticeable stems occasionally (not always) as to be expected from a machine-picked tea.
Take me back to the Bento Box!
-1star for endurance
+2 stars for physical +mental inducing
+1star for subversive,enjoyable flavor
+1star for reminiscence
5g/75ml, porcelain; 205f
Disclaimer: I did have half an 12" papa johns all meat pizza in my stomach, salty meats may have played a role in my experience.
Warm leaf smell: fried tempura California roll
Wet leaf Smell: fried tempura California roll w soy sauce, edamame, Miso soup
Rinse taste: take the citrus off Yunnan golden needle and take it down to the back of the stage, screaming to reach the front. Followed by a trailing clean sugar taste.
1st steep: taste like it smells, but not as savory.
Dried out each tastebud just enough to change the texture to the fisks of an anemone.
Color of 2nd steep: water with a drop of dense gold.
Note: tip of tongue is now watering
Heart beat slowing down, I can feel/hear the pulse.
This infusion caused me to be so present within myself I almost forgot to pour the 3rd on time.
3rd infusion leaf smell: same as introduction, with rising grapefruit citrus notes.
Color: dense gold is melting upwards
Taste:PURE MISO SOUP,BUT WITH WATER TEXTURE,YUM!
No influence on breathe yet, strange.
4th infusion cooled to below body temp:
Mushed Tofu textured, Miso soup diluted with cold lemon water chased by fleeting sugar snap(singular).
The spent leaves look like bat wing leather:Dark, infitesimally thin wrinkles, with shades waving through like light over a hand.
Now that I'm thinking about it, this shares similarities to my experience with Bi Luo Chun green. Fascinating!
All in all an new tea 2 me, so an exciting tea. Had me think back to those spur of the moment dashes to the sushi spot with a dear friend and enjoying each other's company over a bento box. He was an miso aficionado, and an edamame indulgent. I haven't thought back on that for ages, thank you for this tea 🧎🏽.