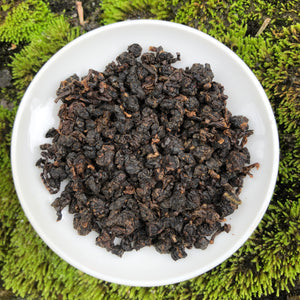 Chocolate dipped raspberries
The flavor on this oolong is INSANE. Dark raspberries and strawberry jam with dark chocolate on that sweet, buttery oolong base. A bed of rose petals and wine on the scent. A bit of the black tea maltyness holds it down.
Extra tiny oolong balls unfurl into big, well processed leaves. I refill the pot again and again and drink all morning. Happy to find this flavor from a fair and organic source, I will keep it stocked!
Rose and Honey
This tea, I keep it for special occasions with special people. It is always surprising when brewing, first of all the smell of the hot wet leaves, just like smelling caramel roses…
Oolong Heaven!
I could slurp this all day every day. I never want to be without it.
Fine Tea
Enjoyed immensely this red oolong with heavy oxidation. Rich and sweet and organically grown. I will be ordering more of this wonderful tea.
Excellent tea, speedy inexpensive delivery
Red oolong is something new for me, had never heard of it until recently when I was reading some random article about woman-owned tea farms). This tea is good. Like a sophisticated lizhihong if that means anything to you. Great discovery.
---