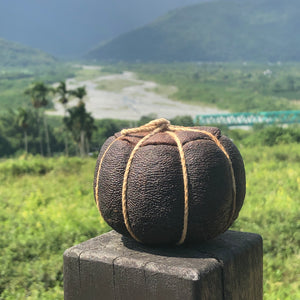 Pleasant surprise
I bought a 10g sample on a whim, and I was pleasantly surprised at how nice it tasted! It has a sweet, citrusy and floral aroma, combined with a smooth depth that comes from being a baked and aged oolong. The citrus notes were well balanced and not overwhelming. I plan on buying more of this.
Fantastic tea!
I've tried all three tea balls and this one was surprisingly my favourite. I say surprisingly because I normally don't like pomelo all that much and have never had pomelo flavoured tea so I didn't no what to expect. However, I was pleasantly surprised! Black tea and pomela are a wonderful combination. The tartness and slight bitterness of the pomelo works really well with the sweet honey of the black tea. I honestly could not recommend this more. It is a really unique tea, with no hint of artificial flavour that you are unlikely to find anywear else.
Grapefruit lovers rejoice!
If you like the taste of grapefruit then you'll love the taste of this black tea preserved in a pomelo fruit! It's good Taiwanese black tea with all the sweetness of a pomelo. I know some citrus fruits can exude a twangy flavour but I find this to be much more on the sweet side. It's delicious and a perfect brew to warm up to in the cold of winter. I imagine it could be good as a cold brew too or served over ice in summer. If you are at all a lover of ruby red grapefruits as I am then I highly recommend trying this!
---