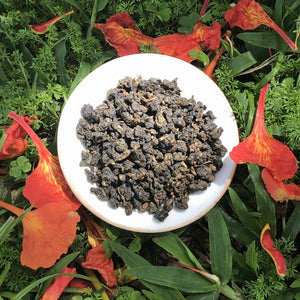 Master Dong Ding 5 stars 🌟
Delicious tea! 5 stars 🌟 🤩 ✨️. Do recommend!
Robust Complex Flavor Bomb
early infusions show a robust flavor bomb of floral, stone fruit, sweet corn, roast nut, silky roasted nut milk down throat. Later infusions: brought forward lemon, tangerine & white corn. *Mouth vibrancy roof of mouth
*Mouth sensation: Powdery mineral mouth feel builds into a creamy & juicy mouth smack!
*ChaQi: warming, focused energy.
*empty cup: sweet white wine.
A spectacular complex tea to sit, breathe and reflect
Good daily driver
The roasting of tea is done masterfully. it adds just enough complexity, texture, and flavors.
I taste vanilla, cream, and caramel. and the vanilla intensifies with each steeping.
It can be steeped around 4 times.
This one can be a daily drinker for many people.
Easygoing, and relaxed. an old master's tea it is.
Shredded wheat
A nice, mellow tea. Reminds me of shredded wheat cereal, perfect for wintertime. I mostly drink pu'er and as such am not supremely qualified to comment on the tea, but I can say with certainty that Matt is fantastic. I made a small error with my order and he fixed it, no questions asked, within hours. Top tier sourcing is evident when looking at the leaves as well. I recommend Mountain Stream Teas.
Fantastic
This tea is dessert. Think vanilla cake. I don't love highly roasted teas, but the roast on this is gentle and perfect. I tend towards the lightly-oxidized, greener, more floral oolongs, personally, so I'd recommend this for anyone who wants to try something a little darker and richer. Will be buying again, for sure.
---