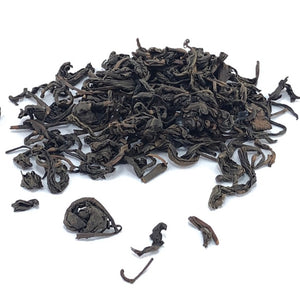 Great earthy tea
This tea last a long time. I poured tea from this for two days. If you drink puer this tea is for you.
Powerful energy
This tea has a delicious sweetness to it. Very thick mouthfeel and flavor reminiscent of brown sugar. Toasty and malty as well. The thing that blew me away most about this tea is the pronounced tea energy. This tea is extremely relaxing…I would not drink this tea for studying or working. If you're vegging out for the night however, this is a fantastic tea to drink.
Aromatic
Color of Puer, strong taste but mallow with age and have a dry sweet aftertaste
Aged Like Fine Wine
Thin in shaping and hand processed, this 1970s oolong has aged with grace. Earthy and reminiscent of shu puer, this tea is far more syrupy in texture and multifaceted in comparison. Slightly smoky with pepper spice and sweet caramel plum, there grows a varied experience as the infusions stack and I continue through sessions with this tea. Stellar work, Matt!
---