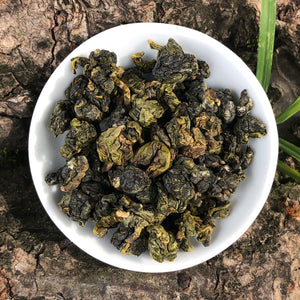 Sweet to Tartness
I think this tea needed to be brewed with a large amount of tea. Grandpa style definitely can make this tea shine better. The taste transition from sweet to tartness (still sweet but more prominent fruity notes). The aroma is not invasive (explode) like other oolong teas. I am glad I tried.
Full bodied, smooth, with a subtle floral finish. Tasted a hint of cinnamon, too. A warming tea experience on a cold autumn night.
My all-time favorite
This tea is my absolute favorite from My Stream Teas. It has such a wonderful. Floral sweet semi spiced undescrible taste that must be tasted to understand. It steeps 3 to 4 times with fantastic taste. It is a wonderful tea poured over ice I try to always have it on had at work and at home
Fruit, flower, cake
This tea has it all. Friendly, well balanced, with the flavors evolving along the steeps. For me, some fruit cake and narcissus in the beginning and more like cooked banana in the later brews. And sort of a pleasant durian aftertaste (just the good flavor of that fruit, not the sickening part).
Lingering and assertive
Mouth feel and aftertaste is where this tea really shines! Lovely fruity, floral and even a little tart aftertaste that stays in the mouth for a long time. Leaves a zesty, almost tingly feeling on the tongue that persists long after the tea is gone. A unique tea that's worth trying!