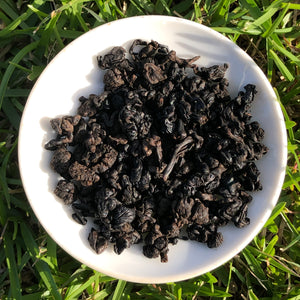 Perfect for a cold fall morning
I got this tea as a free sample when I ordered some other GABA oolongs (thanks Matt!) And my wife and I joked about how it supposedly tasted like asphalt. Very happy we gave it a try because it was one of the most flavorful warming teas I've had in a while! Call it asphalt, if you want, to me it is reminiscent of a cup of hot cocoa and perfect for a cold fall or winter morning. It's definitely quite dark and full of flavor which on some days is just what I'm looking for. Definitely will be grabbing some more of this on my next order!
Call me fritz the road lover
I LOVE THIS TEA SO MUCH ! I really enjoy the flavors and effects. I feel like a monk when I drink it. I'm kind of offended by the name. ( jk ) Bc. I like the flavor so much. I'm not gonna go lick some asphalt and see if it compares. But. I drink the road often and enjoy the dark smoky woody flavors and will enjoy this one the rest of my life. If I'm so blessed.
Asphalt is not for me
Indeed a "love it or leave it" tea. I received this as an extra tea in my order and was grateful to be able to do a side-by-side comparison with the regular "White Egret" GABA. Personally, I'll pass on charcoal roasted teas in the future. Just not a tasting note (or smell) that I find desirable in a tea. I think a good comparison could be like the "leathery" tasting note that one can find in some red wines such as Rioja. A few pro's of this tea are its longevity and lasting caramel-like aftertaste.
---